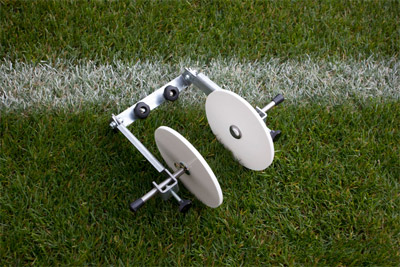 The range of accessories available with Supaturf machines increases the efficiency and versatility of the models. Line marking accessories include an athletics attachment, that enables the production of three parallel lines in a single pass, improving the accuracy and speed at which athletics lanes can be produced on grass, and the easy-fit marking disks which improve the sharpness of the lines you create.
The spray lance and spray boom allow the machines to be converted into very effective sprayers, potentially doubling their usefulness to grounds staff. And the service kit, which contains everything needed to keep the machine of the move, is a simple way to keep machine downtime to an absolute minimum.
Athletics Attachment
Fitted in just five minutes, the athletics attachment will produce three parallel lines in a single pass.
Spray Boom
Convert your machine into a fertiliser, pesticide/herbicide sprayer with this easy to fit attachment. Installed in just minutes, it provides an even spray through two special nozzles.
Spray Lance
The easy fit Spray Lance is the ideal tool for spot treatment of weeds and/or disease.
Marking Disc
Ensure the sharpest lines by utilising the marking discs attachment. Just a few minutes to fit. Fully adjustable to change the line width.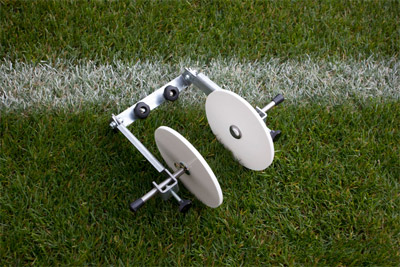 TXE Service Kit
Contains everything you need to keep your machine running smoothly throughout the season:
Reinforced tank hose (00435)
Tank hose clips (x2) (00315)
Spray valve bsp (00212)
Nozzle cap (00440)
6mm Straight connector (11059)
Female connector (11037)
Seal for inlet strainer (0046)
Strainer mesh filter (00237)
Brass nozzle tip (00481)
Nozzle seal (00432)
5 amp blade fuse (00277)
Blue nozzle filter (00480)
SupaFlush Cleaner
Developed for cleaning and prevention of line marking liquid build up within pumps, tanks and spray nozzles. It is fully compatible with all the moving parts of Supaturf line makers and effectively prolongs the working life of the pumping systems in machines.
When applied, the active constituents in the formulation leave a molecular layer of surfactant on the insides of pipework, pump and spray nozzles, etc. This layer acts as a barrier, preventing the build-up of line marking liquid inside the machine. To maintain the surfactant protective barrier, each machine should be cleaned out regularly with SupaFlush.
When applied to a machine which has not been treated before or has not been cleaned with SupaFlush for some time, the formulation will act like a detergent, interacting between the liquid/solid surfaces and lifting most dried line marking liquid away to be flushed out during cleaning.